Playing games is a fun hobby, but it is also a hugely versatile way to learn different things.
There are so many different kinds of board games that everyone can find one they like. And we can all learn something from them – no matter our age!
Board games offer children a safe environment in which to gain necessary everyday skills like social skills or playing as a team. The very youngest children can play to learn, for example, colours, combining, and awareness. Slightly older children can learn fine motor skills, counting the numbers on the die, and words. Preschoolers shine in tasks that take some deduction and can even beat their parents. Playing also teaches children to be patient while waiting for their turn, to win and to lose. Even disappointment is easier to handle when you can practice it first. Whatever the skill, playing board games allows the players to always try again and get a little bit better each time.
When you move up to another age group, skills become more important than luck. Then the game becomes a way to challenge yourself, to compete against others, and to develop different abilities. Board games are an excellent way to support learning in the home, at clubs and the classroom, and many teachers use board games as a part of their teaching.
See at least these: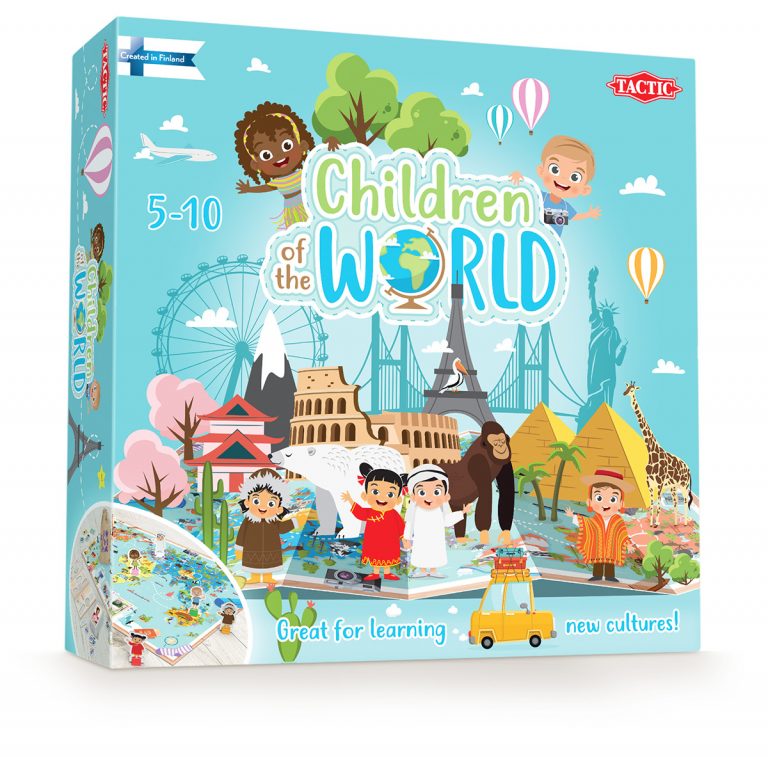 Children of the World is a big and colourful window into the wide world and its cultures. Learn about the things that connect all the children of the world and the things that make us all so unique!
Games can also have a rehabilitating effect.
Many occupational therapists and speech therapists use games in their work. They are a great tool for exercising the brain. We received an encouraging message from Marika, and an expert opinion of the meaning of games in the work of an occupational therapist:
Games are also popular in care homes.
Board games activate the brain in many ways and help maintain deductive skills, memory and fine motor skills. They also have a hugely socialicing effect.
Games teach us how to play.
They teach us to think about our next move, to read our opponents and the game situation, and to think of various strategic solutions to reach the desired goal. When the game is played again and again, the repetition allows us to try different strategies, take risks and find out, which solutions were the best. You might not realise it straightaway, but reading the rules is also a skill which requires understanding what you read and the patience to test it in practice. Counting scores is a great way to develop mathematical thinking.
Playing board games, you can learn a great deal about yourself and your strengths.
Around us, society is becoming more and more "gamified", and the elements we know from games are becoming more and more common in our everyday life.
As the world becomes incresingly digital, board games create a balance for screen time and bring people together. So, games teach us how important it is to come together around the same table, to spend time offline, to feel like you belong, and to feel a shared joy and the myriad of other feelings that games can create.
Board games can teach all a variety of new skills. And having fun while you do it is not too bad either!